Roxie the Cocker Spaniel is back home with owner, thanks to help of stranger
By Cathy Tallyn
Staff writer
(Friday, Dec. 31, 11 a.m.): Roxie is back home, a little worse for wear but safe and snuggled up with her person, Susan Pope.
The black-and-white Cocker Spaniel's story is one of feared tragedy, hope, a lucky break and the kindness and determination of a dog-loving stranger. It's a feel-good story in not-so-good times.
Roxie spent three days lost in Rossmoor's storm drain system before being rescued Christmas morning. She was wet, dehydrated, hungry, her paws were sore and scratched, and she was shell-shocked.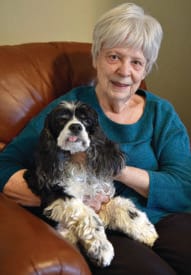 While on her morning walk with Pope on Dec. 22, Roxie slipped down a hole and into a storm drain in Oakmont Drive's Entry 4/8. There was a massive search involving crews from Rossmoor, the fire department, Animal Services and Walnut Creek Public Works. But the 11-year-old dog wasn't found.
As a last-ditch effort, Animal Services staff put a small trap down the storm drain Roxie fell in, with the hope she'd be drawn to the food inside. They caught a racoon. Pope was losing hope. But Roxie's "angel," as Pope calls her, didn't.
"On the day of the accident, a lady walked up to me. She told me, 'I'm going to find your dog.' "
And Jean Engel, a complete stranger, did.
The resident of Golden Rain Road spent three days searching the area, clear down to where the storm drains empty into Tice Creek, near The Waterford.
"I just couldn't put it down," Engel said.
A dog lover, she knew how sensitive and timid a Cocker Spaniel is.
After spending most of  Christmas morning searching, Engel got the idea Roxie might have gone up Oakmont Drive and not down as searchers suspected. She searched up the other side of the street.
"I called and called her name." She rang bells over the drains, hoping Roxie would hear them and pop her head up. Engel peered down inside, using a flashlight so that she could see in the dark, underground recesses.
About half a block up from where Roxie slipped away, Engel thought she saw something down the storm drain. It was Roxie.
"I just didn't believe it," Engel said. "It was a miracle — a gift from God."
"I ran to my car and grabbed my phone and called Susan Pope. I told her to call 911 and then get over here."
Pope called the emergency number and asked if the firefighters from nearby Station 3 who'd searched for Roxie earlier could come get her out. Luckily, it was a slow day.
Pope, who lives on Rockledge Lane, arrived at about the same time as three firefighters. While they worked to take off the heavy, 4-inch-thick concrete cover over the storm drain, Pope talked to Roxie, hoping she wouldn't spook.
A firefighter climbed in, grabbed Roxie and put her down on the sidewalk next to Pope. Roxie was a little bedraggled but otherwise looked OK.
Pope immediately took Roxie to an emergency pet hospital for a veterinarian's evaluation. Except for her scraped paws, Roxie was alright.
Roxie is recuperating at home.
"She's snuggled up to me as close as she can get," Pope said last Wednesday.
Because of Roxie's sore paws, Pope has to carry the 25-pound dog up and down the stairs near her manor so she can go outdoors.
"She doesn't walk very well," Pope said. At times, Roxie seems a bit nervous.
"We've got a long road ahead of us, but she's a tough little thing."