Open-flame grilling would be prohibited during red flag days
By Ann Peterson
Managing editor
(Friday, April 15): Grilling and smoking could face significant restrictions on GRF property after the Policy Committee signaled support for two new rules at its April 11 meeting.
A new rule would prohibit any open-flame grilling in GRF open areas during red flag warning days. The committee unanimously voted to send Rule 117 to the GRF attorney for review and then on to the full Board for consideration.
"This is something we all need to pay attention to," Public Safety Manager Tom Cashion told the committee, "because when there is a red flag warning, if there is a fire, it spreads rapidly and it does endanger people's lives."
The rule is just the latest step in protecting Rossmoor from potential wildfires. The Board voted last September to ban grilling at Hillside's Shady Glen picnic area after Cashion and the fire marshal inspected the area. Several grills were removed, leaving only three surrounded by concrete. Grass vegetation around those grills will now be cut back 100 feet instead of 25. And Cashion said fire extinguishers and a longer hose are being installed before the grills resume operation.
"We've been working to balance the needs of residents who want to use that area to barbecue and making sure we're keeping Rossmoor safe from wildfires," Cashion said.
Committee Chair Dale Harrington supported the idea, especially after Cashion noted that signage at Shady Glen would alert residents when it is a red flag warning day. Also, because residents are supposed to reserve picnic areas, they could be notified on these days.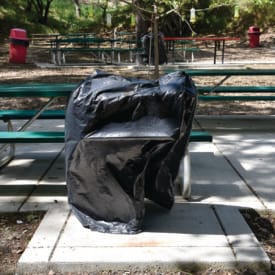 Committee member Dwight Walker asked how the rule would be enforced. While Cashion said cameras are part of a long-term plan, complaints from residents and observations by Securitas patrols would drive initial enforcement.
The rule applies only to GRF property, as individual Mutuals set their own policies regarding barbecues.
In another measure designed to increase wildfire prevention, the committee discussed whether to adopt a new rule prohibiting smoking in GRF parks, open spaces, trails, streets and outdoor recreational facilities, except the golf courses. The rule is modeled after Walnut Creek's smoking ordinance, which dates back to 2013.
Cashion explained to the committee that the city's ordinance does not cover GRF's parks and open spaces. "In essence, there's a gap," Cashion said. "So, this rule would mimic the city of Walnut Creek's ordinance and apply it to our open spaces, our trails, our outdoor recreation facilities and things like that."
While the new smoking ban would also cover the driving range and practice greens, it would not prohibit smoking on the other parts of the irrigated golf courses. That's because Walnut Creek's ordinance also carves out an exception for golf courses.
Walker questioned that exception, considering how justification for the proposed rule included the "inherent health risks of smoking and secondhand smoke."
"It just seems highly hypocritical that we would issue a rule with all of these dangers," Walker said, "and then say, 'But, you know, the golf course is different.'"
After much discussion, the committee decided to leave in the exception but only on the irrigated portions of the actual golf courses, not the out-of-bounds areas, range or practice greens.
Stumpfel was concerned that removing the golf course would leave smokers no place in Rossmoor to light up, especially after she proposed adding GRF streets as no smoking areas.
"In our entry, there's a little turnaround circle," Stumpfel explained, "and there are people who come up and park, open their car windows and smoke. They could easily just throw their butts out into the surrounding area, and also the smoke drifts up the hill to the houses."
Because the committee began making extensive changes to how this proposed Rule 118 was written, it sent it back to staff for edits and legal review. Walker also asked that Director of Golf Mark Heptig review the rule before it is brought back to the committee on Tuesday, May 3.
The committee also wanted more work done on proposed changes to a policy regarding attendance at meetings.
Last month, the GRF Board decided to invest in three Zoom carts that will allow the Board and committees to hold hybrid meetings – both in person and virtually. Harrington suggested changing Policy 201.6 to lift restrictions on remote participation by Board directors or committee members.
Harrington said allowing remote participation could provide accommodations for a member or chair who has a disability.
Stumpfel was concerned that a lack of restrictions might allow a director or committee member to always participate remotely, while other members attended in person.
Walker also spoke in favor of preserving in-person meetings. "I think there's great value with in-person; it's almost a social event," he said. "I'm not a fan of a chair presiding over a Zoom meeting or a committee member participating remotely on a permanent basis."
The current Policy 201.6 allows remote participation by an individual for up to 25% of the regularly scheduled meetings. That would allow a sick or traveling director or committee member to still participate.
CEO Tim O'Keefe also explained that accommodations are already made for individuals who have disabilities.
Harrington decided to remove his recommended changes, but the policy was sent back to staff to address some changes needed to better facilitate the hybrid meetings that the Board already had approved.