No one injured in Thursday afternoon blaze on Tice Creek Drive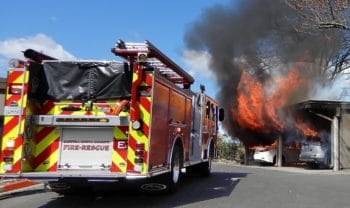 By Sam Richards
Staff writer
(Thursday, March 25, 4:28 p.m.): No one was injured, but three vehicles were destroyed and a carport was seriously damaged in a fire Thursday afternoon inside Entry 7 at 3152-3168 Tice Creek Drive that fire investigators believe started in the engine compartment of a vehicle parked in the carport.
Firefighters got their first call at 2:41 p.m. Thursday about a "car smoking badly" inside one of two carports at that address, Contra Costa County Fire Protection District spokesman Steve Hill said. About seven minutes later, Walnut Creek police reported a "possible extension" of the fire to the carport itself, he said.
Witnesses said they saw thick, black smoke pouring from the carport at about that same time.
"I heard a woman yell 'fire;' my wife called 911, and I pulled my car out and told everyone in the units (near the carport) there was a fire," said Richard Dupell, who lives in the nearby 3152 building. "By then, the smoke was so heavy, no one else could get in. I barely got in myself to get my car."
The woman who yelled "fire" was Kathleen Epperson, who lives in the 3200 building immediately east of the burning carport. She said she was eating a late lunch on her patio when she smelled, and then saw, the smoke.
"When the flames went over the top (of the carport), we were the closest unit to the fire," said Epperson, who, like Dupell in his building, warned her neighbors about the fire. "I'm relieved that they got that fire out."
Firefighters knocked down the fire before it could reach the other carport or apartments north and east of the carport that burned. The carport that burned is approximately 15 feet from the nearest housing units in the 3200 building.
"Thanks to a swift response …. and perhaps a measure of good fortune, the fire did not spread to the nearby structure," Hill said.
Paul Donner, Rossmoor's director of Mutual Operations, said MOD will work with Second Mutual and with the appropriate insurance companies to coordinate a rebuild.