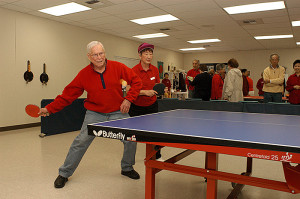 Rossmoor has a state-of-the-art Table Tennis Clubhouse with five table tennis tables, a mini kitchen, restroom facilities and a social area. The new facility was awarded the 2013 Walnut Creek Action for Beauty Council Architectural Award. It is an ideal facility for casual or tournament play. For information about joining the Table Tennis Club, call Stuart Fox at 939-7316.
Table Tennis Club Rules
Shoes must be gym shoes for safety, with non-marking rubber soles.
Non-resident guests must be accompanied by a resident or member.
Children must be controlled to use the equipment properly.
Of course, visitors are welcome to observe any time. During tournament and other membership events, the clubhouse will be unavailable for play.