Breaking News
Third Mutual projects are jumping ship
By Cathy Tallyn
Staff writer
Following the lead of Project 39 leaving Third Mutual, seven other projects are preparing to do the same. And, more could follow.
Ballots could be in homeowners' hands within two months, according to estimates by disengagement leaders.
One year after incorporation, Mutual 39 board members agree it was a good decision.
"I think it was a wise thing for us to do," said Al Guskin, a board member. "It seems to be going well. A small Mutual can be responsive to changing needs and desires."
With 1,546 condominiums in 24 projects, Third Mutual is Rossmoor's second largest, behind First Mutual with 1,878 cooperative units.
Third Mutual Projects 40 and 41 (with just under 200 manors) as well as Projects 50A, B and C and 55A and B (with 176
manors total) will try and form two new Mutuals." I think the board as a group didn't expect this amount of movement of people out of the Third," said Gery Yearout, who represents Projects 40 and 41 on the Third Mutual Board.
"I think some were surprised," she said. "But no director said, 'You can't do that.' But I can't speak for the board."
The board didn't put up any roadblocks when the projects talked about leaving, according to organizers.
The reasons given for leaving include that Third Mutual is large and litigious with high legal and insurance costs. Also, there is a desire for more local control and the preservation of property values.
"The No. 1 reason is preserving our property values. I'm a real estate broker. I have buyers saying they don't want to be in Third Mutual," David Schubb told residents of Projects 50 and 55 during a Jan. 17 gathering.
"We want control of our community. We want to be making the decisions, not someone on the other side of the valley," he said to applause.
Stay or go?
Earlier this month, residents of the seven projects voted overwhelmingly to continue with the withdrawal and elected representatives to complete the process and help prepare required governing documents.
"The only question you have to ask yourself is – do I want to stay in Third or be in a new mutual," Toby Dicker said to some 125 people who attended the hour-long meeting for Projects 50 and 55. The attendees represented 80 manors. There were also curious residents from other projects.
Dicker, who resigned from the Third Mutual board in December, has spearheaded the drive
in Projects 50 and 55. The projects are adjacent and include entries 18 through 25 on Terra Granada Drive, opposite Eagle Ridge.
Only a few hands went up when meeting organizers asked who didn't want to disengage.
But, before the vote, residents were told about the withdrawal process and were allowed to ask questions. Residents wanted to know what happens if only one project votes to succeed. That project would be a Mutual by itself or homeowners could revote on the issue, they were told.
"We need to be united and not be (Projects) A, B and C," Dicker said.
She estimated that the rest of the process will take until May, with the ballot coming next.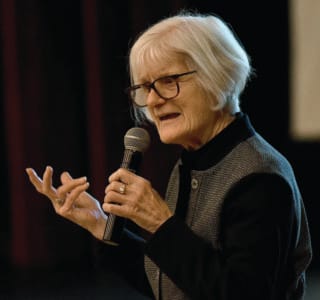 "Please vote and encourage your neighbors to vote," said Penny Ittner, a Project 55B representative.
Projects 40 and 41 are a little ahead of the other five projects.
"We're being very careful about the proceedings. We want to do everything exactly right," said Yearout. Ballots could be mailed in five to six weeks, she estimated.
"Our last meeting was attended by 150 people and 150 raised their hand to continue the (withdrawal) process," she said. "But that doesn't mean they'll vote that way."
Each manor has one vote, even if more than one person lives there. To pass, 50 percent plus one must vote to withdraw.
Projects 40 and 41 are adjacent and are on Terra California Drive, Entries 2, 9, 10, 11, 13 and 14 and Saklan Indian Drive, entries 8, 9 and 10.
Setting the path
New Mutual 39 paved the way. Its documents are public record and, as such, will serve as a template for the two proposed new Mutuals. Mutual 39 is located on parts of Saklan Indian and Terra California drives.
From the start of the process to officially becoming a Mutual took about nine months, said William Claussen, a member of Mutual 39's board.
"Things had been brewing for quite a while. Third Mutual is really big and unwieldy," he said. "The final straw that broke the camel's back was all the business about redoing the CC& Rs." That process has taken years.
Mutual 39 is in the process of drawing up its own CC& Rs. "We're actually not finished dotting all of the i's and crossing all of the t's," Claussen said.
Project 39's monthly coupon rose from $800 to $890 when it became a Mutual. Much of the increase was for higher fixed operating expenses, such as water and power, as well as insurance costs, he said. However, if the projects stayed in Third Mutual, the coupon would probably have increased anyway, he said.
The vote to succeed wasn't unanimous, but was very high. Most residents are delighted they're out of Third Mutual and its problems, he said.
"Other projects have said they'd like more say," he explained, "and say, 'Can we join you?' We're not looking to increase in size. There's no right size, but 130 (manors) is just fine. We don't want to have 500 manors."